Our Agent Program Let You Make Benifit Without IT Skills!
Our Agent Program concerns all web/IT products and services that we currently offer. You can easily make money by just referring new resellers and customers to any of our services: website hosting, website design/development, EMail hosting, Web and IT services etc.
By placing a banner or banners on your website, you can refer customers and earn money when they make a purchase. Our automated tracking system means you earn commission for every new ECool customer that comes through your specific link and completes an order on our site.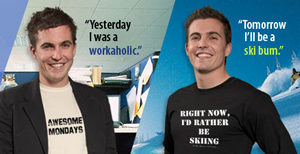 Monitor The Success Of Your Affiliate Site
Every time a client of a reseller referred by you to our FREE program purchases or upgrades a service plan, you will receive 10% of the sale price of the respective transaction. Month after month, year after year, as long as that reseller works with ECool.
You can view your affiliates and the profit they brought you in the FREE program's Control Panel, Affiliates section. You can have as many affiliates as you like, thus collecting more profits.
How does the 10% lifetime commission scheme work?
It is simple and hence – successful. It makes no difference whether it is a new sale or simply a renewal of a hosting service. You will receive 10% of the total money transaction as a commission, while the clients of the resellers referred by you are ordering or renewing hosting accounts, regardless of the fact that some resellers might actually have ceased bringing new clients! They too will receive their share of the total value of each transaction, even if they are not involved with reselling of hosting accounts anymore!
What should I do in order to receive a check with commissions myself?
That's more or less what you should do, here:
Create an account with our FREE program. Even if you wish to use our any offerings, you will have to sign up with our FREE program to take advantage of our Affiliate Program.

In the Welcome E-mail you will receive your affiliate code. Alternatively, you can pick up your affiliate code at any time from our FREE programs Control Panel, Affiliates section. In this section you will also find the banners with which you can promote our programs.

You can start referring new resellers immediately or whenever you think you are ready to.
Don't expect miracles to happen using our 10% Lifetime Affiliate Program. We believe that receiving a 100 USD check each month won't do you harm or, better yet – several hundred US dollars – in case you have your own traffic sources or you simply know more!

Moreover, you can refer new resellers only during the first few months, while the next few years you can quit referring new resellers and still continue to be paid your direct or 2nd level commissions as scheduled!

Ready To Start?
Our Affiliate Program gets bigger every day as more and more people realize the rewards of joining! With these loyal customers, are you ready to start making money? If so, it's just a click away!