Unlimited Earning Potential for ECool Resellers
Run your hosting business as an ECool reseller!
It is absolutely free to become our reseller, there are no billing or start up fees. By joining our system you will gain access to a free Reseller Control Panel, from where you will be able to choose the design of your web hosting store and which of our web hosting services you are going to offer through it. You will have a full control over the prices, as well as the ability to create own custom hosting packages.
For all web hosting purchases, service upgrades, renewals and domain registrations made through your store during each month, you will receive a monthly reseller profit equal to the difference between the prices that you have set on your web hosting store and the wholesale prices at which we provide our services to your customers.
Why do you love our reseller program?
You control the price and earn all the margins!
Easy-to-sell hosting & domains products.
Dedicated affiliate team to help you running .

What makes us unique is that we have rich web hosting expenses, as well as the billing fees, thus allowing you as a reseller to sell on behalf of your own brand name. The 24/7 technical support to the end customers and the stability and reliability of the service are our responsibility. There are no billing or setup fees for you to begin.
So how it works?
Private Label Reseller model allows you to use our Templates and remote forms. Your customers will order through our billing system which is secured and fraud protection. We will support your clients on behalf of your brand name. Your reseller anonymity will be kept as best as possible.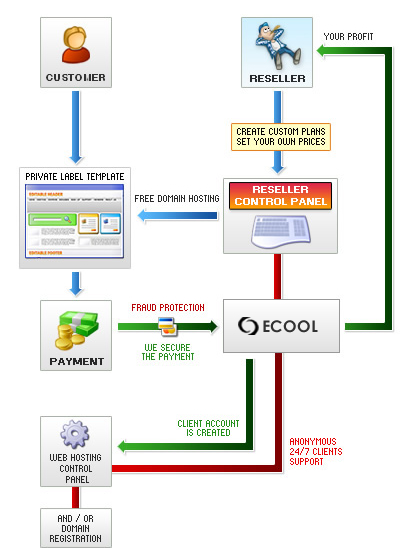 Why offer such generous commissions?
Because we know once people try ECool they'll want to stay forever.
Reseller Benefits - You run the game!
Private label reseller - resell to your clients under your own brand name

You set your own prices - maintain full control over your profit

Private DNS and E-mail cluster - improve your reseller uniqueness

Multi-currency support - credit/debit cards or PayPal payments (USD, GBP, EUR, CAD & AUD)

No billing fees - we cover all the billing expenses and offer a fraud protection, no start up fee

Full control - over your customers' hosting accounts: upgrade or renew customers plans

Liquid Plan Builder - create and customize your own hosting plans, put your prices on them and sell them

Resell competitive plans - in case you dont want to use the plan creator, simply resell our two predefined plans

Ready to Use templates - choose one of the ready-to-use templates or apply our remote forms to your own site

Detailed statistics - complete report of each and every single sale you make

Free domain - Free with every hosting package

Professional support - available 24 hours a day, 365 days a year - both to you, as a reseller, and to your clients.

2-tier affiliate program - 10% commissions on all affiliate sales

No obligations - Neither future obligations and deposits, nor special skills required.